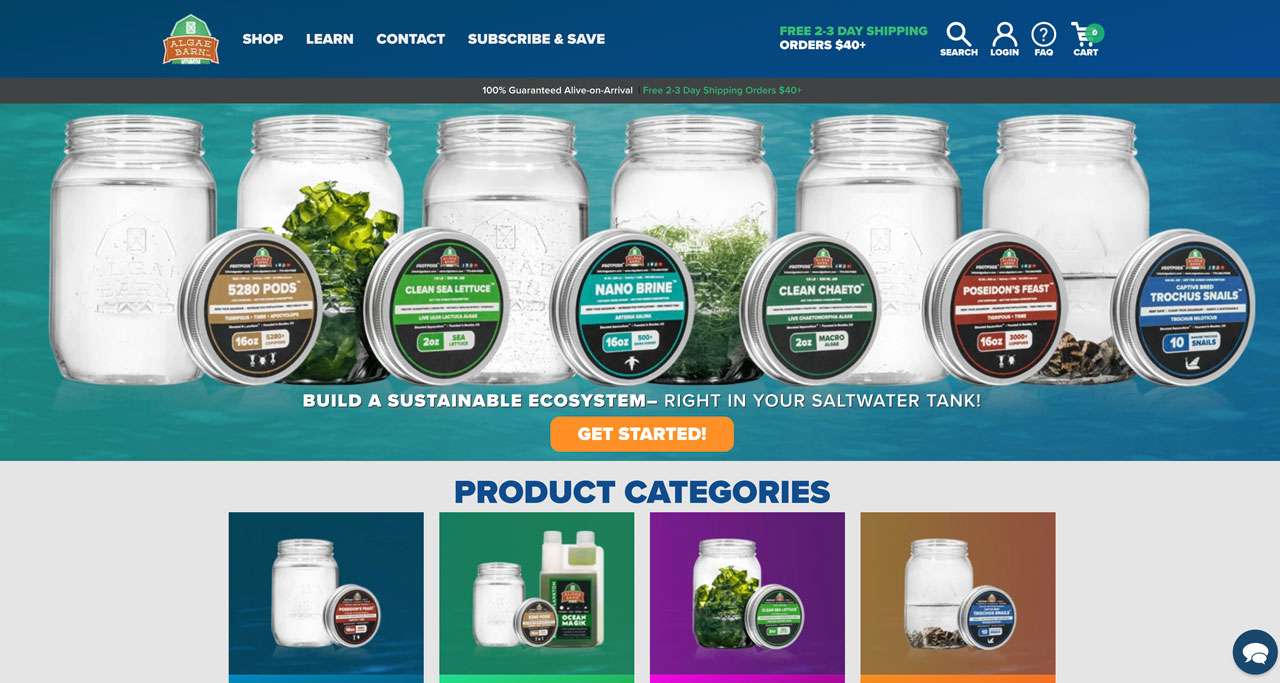 Sean Tadjeran runs Algaebarn.com, an online superstore (WooCommerce) that sells everything related to saltwater aquarium ecosystems. They sell water-animals, algae, nutrients, lighting, bactoria, and more. He was previously paying nearly $900/month on hosting (first a small company using AWS,and then Cloudways right before us). All the typical nightmares you can imagine for a critical ecommerce site, he had it. Slow server load (TTFB) and constant site failures due to proprietary caching mechnanisms. The tech support wasn't much help besides basic issues. Every problem was solved by requiring costly server upgrades or blaming the custom. At one point, Sean was blamed for 3 days of downtime before they realized and fixed the issue on their end. The absurdity of all was that these companies advertised themselves as being "dedicated servers", "optimized for WordPress", and "neck-breaking speeds".
He found my WPJohnny blog through Google, loved the guides and decided to ask for some quick tips. I helped him out as much as I could and eventually stated quite confidently that we could host his site better his existing host. Keep in mind, I had no idea what he was paying for hosting. Once he told me what he was paying (over $700), I was absolutely sure we could do a better job and for a whole lot less. Now came the hard part. Sean like my guides and saw great promise in our server…but had already heard of the constant "new webhost" claims over and over. It's true, every webhost claims to be the best webhost you'll ever meet. Hahaha.
I wasn't sure how to convince him that not only our servers would be faster but also so much cheaper than what he was paying before. I really felt he would be just fine on our $185/month plan but he insisted on the $285/month one for the 'extra cushion'. So be it! He asked all the typical "gotcha" questions. Whether or not we included free SSL's (we do), if we actually managed these servers ourselves or just reselling somebody else's hosting service. He sent screenshots of every plugin being used on the site. Was also worried we wouldn't be able to migrate his site without downtime. Keep in mind, this exchange happened all while I was on vacation (in Italy).
I fired up a clone for him to compare side-by-side. He was really impressed not only by how fast the clone was, but also how quickly I copied his whole site over to another server. He took the plunge, and we set a migration date a few days later. The whole site and sub-sites were moved within 30 minutes or so. And we're still happily together.
Algaebarn is quite a tricky little site. Many products but also many options within those products, and of course…many WooCommerce plugins. A little bit of caching, and some careful server tuning, and the beast is tamed. No more speed issues, not even during "heavy periods". We're very happy for Sean and Algaebarn's success.
As a business owner, the last thing I want to deal with is complaints about my website loading slow or it has suddenly stop working. Even worse, is when they call to complain they can't checkout (but it was just working a few hours ago!). I have never had these issues with JohnnyVPS, unfortunately, I can't say the same about my prior website hosts. Even better, he does it at a fraction of the price of the competition (I was paying close to $900/month for an AWS server managed by another company, now I'm paying about a 1/3rd of that, and Johnny has actually tried to convince me to downsize!). He provides a better service, better speed, and essentially requires little-to-no maintenance to keep your website running. I simply do not have to worry about caching or some other server function breaking on Johnny's servers, and that is a huge relief!

Optimized WP Website hosting is a complete mess of an industry. So many claims of "Dedicated servers", "Optimized for WordPress and Woocommerce", "we promise our proprietary caching system WILL not break your checkout", "neck-breaking speeds", etc. Furthermore, trying to find an honest host with unbiased reviews is nearly impossible. Virtually every review or blog post you find online for hosting providers are affiliate/commission based or their experience is running a blog that has 3 plugins, a basic theme, and has 100 visitors a month.

We have been through 2 prior "corporate" webhosts for our wordpress/woocommerce site that were supposed to the "best for WordPress", but their servers consistently have issues (slow TTFB, strange caching issues that break the site on the cart/checkout page), and they are EXPENSIVE! These issues are like whack-a-mole, you fix one thing, and then a week or two later a new gremlin emerges. Furthermore, their customer support is useless for anything besides the most basic issues, but hey, they are available 24/7 to tell you it is your fault or that you need a bigger, faster, and much more expensive server! We were blamed by one of the biggest hosts for crashing our site for 3 days and on an ecommerce site, that HURTS! They kept telling me to restore a backup or clear the server cache (I hadn't changed anything on the server for over 2 weeks, so it wasn't something on my end, and my staging site that I pulled a copy of the live site was working 100%). After 3 days of talking to numerous customer support agents, clearing every cache available on my end, they finally fixed it by clearing a deep cache on their side, and they blamed it on me for not asking them to clear it…talk about customer service!

After nearly pulling out every hair on my head from these experiences, I stumbled upon the blog site for JohnnyVPS. It showcased Johnny's knowledge and the various solutions for problems (not just "use my server and it will fix your issues"). I emailed Johnny about some caching and speed optimization issues I was experiencing with my site. This started a lengthy discussion and he helped me solve them (for free) and educated me on the drawback of certain speed optimization/speed score tricks. After numerous back-and-forth emails, we finally started to discuss hosting. I'll be honest, it took Johnny about a month to convince me to switch hosts. I've been burned quite a few times, so I don't jump hosts quickly (Better the devil you know than the devil you don't). He asked me to send him my current server information, cpu usage, visitors per month, and how much I was paying (I thought he was going to quote me at 90% like a good salesman. NOPE! Less than 30%, and he even told me I could be closer to 15%, but I told him I wanted the best he could offer, plus, I was already saving so much 😊). Johnny did all the messy migration work flawlessly (he even did a "test migration" to prove he could transfer everything with NO downtime to calm my nerves).

One major hesitation of switching to JohnnyVPS was that Johnny doesn't provide 24/7 live support, but the funny thing is, that if you have a basic understanding of what you are doing and you can follow best (or even decent) practices, you just don't need 24/7 support with JohnnyVPS. Now, if you do not know how to use FTP, or can't be bothered to google it, then he's likely not the right host for you (and he admits that). I'm well aware of when I do something to break my site, I do version control, and I'm competent enough to use a staging site. So, if the site suddenly stops working after running smooth for months, I know to check my error logs and then to reach out to my host. I can honestly say, I haven't had a server or speed issue in months (when this use to be a weekly issue with my prior hosts).

To wrap things up, if you are looking for a WP host that you do not have to deal with random server issues, speed issues, caching issues, price gouging, bait and switch server speeds, check out JohnnyVPS.

– Sean Tadjaren